LPD: Russia, China, and National Security
November 16 @ 1:30 pm

-

3:30 pm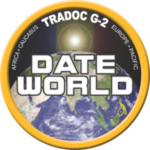 Understanding the operational environment is a continuous process, and DATE users will know how complex it can be in execution. The TRADOC G-2 is working to make it easier to understand today's OE, and today's real-world pacing challenges like China and Russia, in order to help you contextualize those challenges for your training events.
Please consider joining in our first leader professional development seminar for FY2022. For this first seminar, TRADOC G-2 welcomes Dr. Derek Mallett, an associate professor of history at the U.S. Army Command and General Staff College. Dr. Mallett will deliver a presentation covering recent historical context and contemporary Chinese and Russian military thinking, and their possible implications to U.S. national security.
Join us virtually on November 16th, at 1430 EST (1330 CST). The event will be unclassified and distributed via MS Teams. Please register with your A365 email account to join the event.