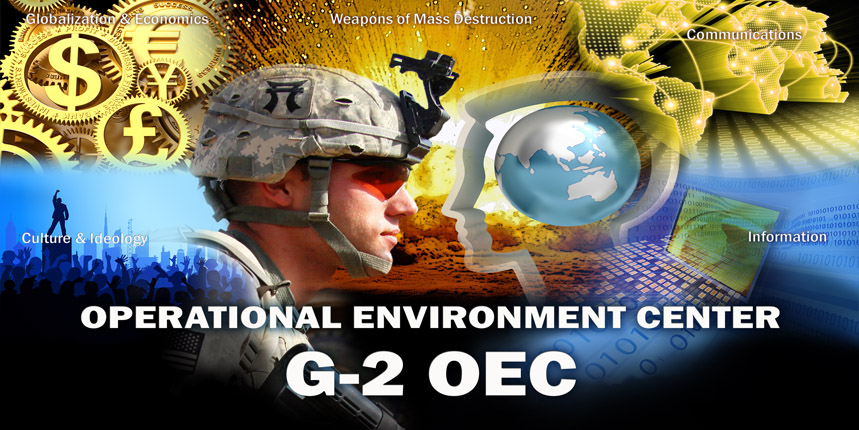 The OE Center is the Army's effort to centrally manage how it anticipates, identifies, defines, replicates, and integrates the Operational Environment (OE). It is under the direction of the Deputy Chief of Staff, Intelligence (G-2), U. S. Army Training and Doctrine Command (TRADOC).
Why an OE Center?
The Army is in transition. After fighting two wars in the past decade, with an emphasis on counterinsurgency and stability operations, it's drawing down combat operations and shifting its focus to preparing for the future. The range of Army missions is staggering – from counterterrorism and irregular warfare to operating in cyberspace to conducting humanitarian or disaster relief operations.
The Army Capstone and Operating Concepts summarize these changing operational realities as "conditions of uncertainty and complexity," requiring ground combat forces with "operational adaptability" that can seamlessly transition between combined arms maneuver and wide area security. And the Army must do all this in a time of reduced defense resources.
While he was TRADOC commander, General Martin E. Dempsey (now Chairman, Joint Chiefs of Staff), called for "development of an Army central OE Center" – capable of creating complex and dynamic environments for training, in the institutional schoolhouse, at home station, at a Combat Training Center (CTC) or while deployed – to transform how the Army trains units and develops leaders.
Making the Scrimmage as Hard as the Game
To support the Operating Force in achieving these and other goals, the OE Center enables the Institutional Army to replicate complex current and future OEs in coordination with Joint, Interagency, Intergovernmental, and Multinational (JIIM) partners. It rapidly integrates any required OE into training, leader development, capability and concept design.
This effort is in concert with the goals of the Army Learning Concept 2015 (ALC 2015) and subsequent Army Learning Model, establishing life-long, student-centric learning/training as its main goal. The ALC states that the Army "must leverage technology to establish a learning system that provides engaging, relevant, and rigorous resident, distributed, and mobile learning." By design, the OE Center enables these Army concepts by providing the context or conditions for training across all echelons and disciplines. That context consists of data, information, and knowledge products that are mapped to leader-driven training outcomes and the Army's validated assessment of the OE.
We cannot expect to capture the imagination of combat-seasoned forces that have been in some of the most complex environments imaginable for almost a decade by sitting them in a classroom and bludgeoning them with PowerPoint slides. We must make the 'scrimmage' as hard as the 'game' in both the institutional schoolhouse and at home station.

General Martin E. Dempsey
Chairman, Joint Chiefs of Staff