Opposing Force Threat Tactics Course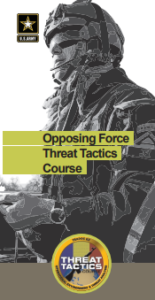 The Opposing Force (OPFOR) Threats Tactics Course (TTC) provides information, guidance, and mentoring on how to implement the doctrinal OPFOR structures, tactics, and mindset to meet your training requirements. This course is presented by the proponents of the OPFOR doctrinal products and Operational Environment (OE), the TRADOC G-2 Operational Environment and Threats Integration Directorate (OETA).
The focus is helping your personnel understand and apply a hybrid OPFOR threat, based on best practices representing conventional forces, irregular elements, and criminal organizations, with a range of capabilities – analogous to actual worldwide adversaries.
The OPFOR is tailored to replicate realistic, robust, and relevant hybrid threats in operational environments (OEs) as presented in Army Regulation 350-2 (2015), the US Army Training Circular (TC) 7-100 series, and the Decisive Action Training Environment (DATE).

The course is delivered in two phases:
Online computer-based training:

Fundamentals
OPFOR mindset
Selected Tactics
Approx. 8 hours
4-Day instructor-facilitated instruction:

Mobile Training Team (about 30 personnel) OR Remotely
via MS Teams (reduced class size)
OPFOR preferences
Drills & Exercises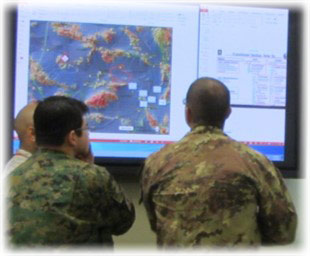 "I wish I had this before our last training rotation."
-CPT A., 25th INF DIV
The TTC supports a diverse training and analysis audience:
OPFOR personnel:  Accurate portrayal of doctrinal behaviors.
G2/S2s: Better ECOA development & improved IPB.
Exercise/Scenario Developers. More variety, challenge, and options for RTU Commanders.
Intel Community.  Understanding of training linkage with real-world analysis.
Multi-service & International Partners. Understanding and mentoring for coordination, implementation.
"I feel much more confident about my ECOAs!"
-SGT H., Ft. Bragg
The Threat Tactics Course is Foundry-approved