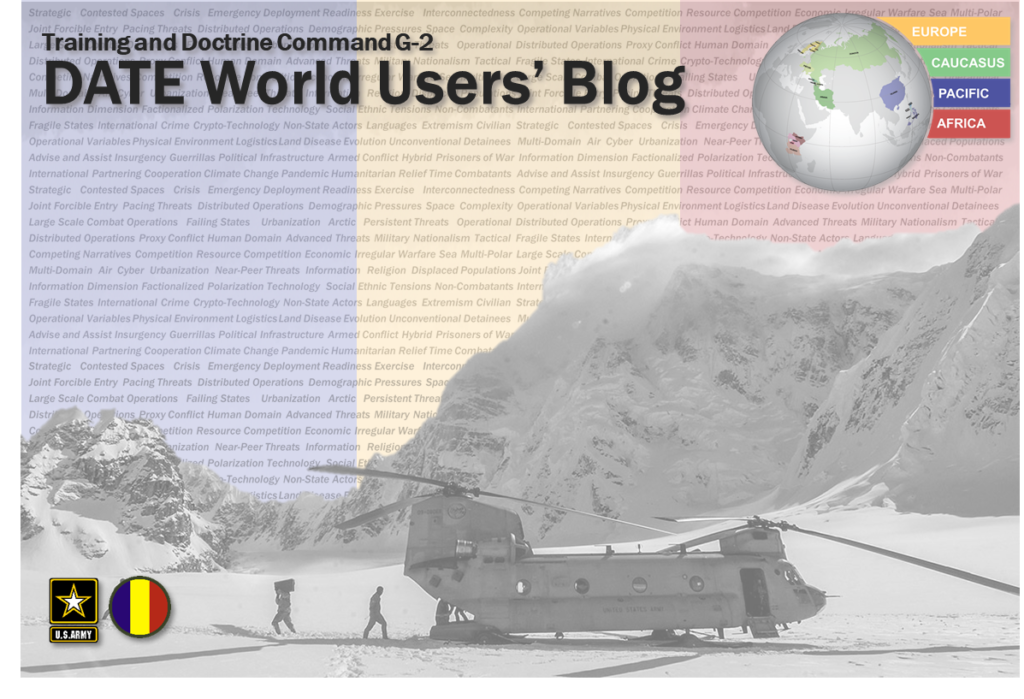 Welcome to the inaugural posting of the DATE World Users Blog.
The purpose of this blog is to drive rapid and continuous improvement of the training environment by:
Collaborating with DATE users like you,
Sharing DATE World contributions from the field,
Educating the force on DATE best practices,
Disseminating emerging DATE topics and concepts,
Our goal for the blog is to generate greater transparency across the user community.
The DATE World Users' Blog will include topics like:
Foundational DATE World information
Overviews of DATE World Operational Environments
How to adapt DATE World to meet training needs
How to use TRADOC G2 published training support materials
TRADOC G2 Tools that can be used to enhance training
How DATE World replicates conditions and capabilities
User submissions discussing their experiences with DATE World
This blog will also be used to make announcements concerning developments with DATE World, and around TRADOC G2.
You may be asking yourself, why a blog? Well…
We originally envisioned this concept as a "DATE World Users' Guide," a handbook of sorts that could help the DATE World Community of Practice (CoP) develop a shared understanding on some of the foundational information for using DATE World, but we quickly realized that our idea faced a couple of challenges:
Challenge 1: Subject Matter. DATE World is dense and often begs more questions than it provides answers. A handbook may be useful to training developers, but many will have follow-on questions and many more still would benefit from listening to the answers. A handbook simply is not interactive enough.
Challenge 2: Making Updates. Transformational change in the 21st century operating environment is accelerating, and the Army's training environments must keep pace. Printing new editions each week would increase the number of obsolete handbooks filling the bottom of Army foot lockers.
Challenge 3: Dissemination.  If we're being honest a handbook means another email, and the chances that anyone reads another email, much less the attachment, are not great. And we already have so many really good products over on the APAN website, that don't get sent to email inboxes each week.
Challenge 4: User Contributions. In TRADOC G2 we write DATE, but we aren't the ones training in DATE. We suspect that some of the best DATE contributions in the Army are trapped in a Staff NCO's green notebook on a rotation at JRTC, or at a warfighter in Fort Carson. A handbook does very little to turn that innovative idea from a green notebook into a DATE concept.
After several short brainstorming sessions with multiple whiteboards, we realized that what we really needed was even more planning! So we brewed a fresh pot of coffee, ordered some Thai food, and got down to business. We knew we needed to keep the content short, the topics interesting, and the format relatable. Basically, we needed some form of online media that was easily accessible, where we could make posts.  After a few minutes someone yelled "Yahtzee!" They had solved the riddle, and what we needed was a DATE World Twitter account.
Buuuuut it only took us a few moments to realize that the twitter game within the TRADOC community is already pretty strong (and pretty intimidating), just look at LTG Martin's Twitter account, he has almost 30,000 followers and SABOT rounds literally bounce off his tank (allegedly).  We considered a Facebook page for a moment, then realized it might get lost in the shuffle between Russian disinformation posts and our parents' pictures of the grandkids. Instagram was a non-starter since none of us are technically "influencers," and the handbook probably won't have any pictures of food.  As for TikTok, well, let's just say there's a very good reason your Brigade S2 wasn't cutting up the dance floor at the brigade ball…and we're a bunch of even older brigade S2's. Somewhat begrudgingly, we gave up on a social media approach.
Some ideas were better than others, but nothing seemed to meet the need.  We were getting nowhere; the bad coffee was, well bad AND burned by this point, and morale was really beginning to sag. Then, somewhat miraculously, someone tossed a Hail-Mary from the back of the room and said "what about a blog?" We knew that Mad Scientist had a successful blog, so hosting a blog was possible. We knew that we had the DATE World expertise needed, so writing a blog was feasible… and quite frankly at this point we were thrilled with having an idea that was both possible and feasible, so before anyone could sharp shoot the idea, we said why not…let's do it, (and let's hope it works).
So there you have it, our inaugural DATE World Users' Blog post. Let's hope it's not our last.
Now you know that the blog exists, and why it exists. Our next post will dive headfirst into what DATE World is.
Until next time,
The DWUB Team
Feel free use the comment box below to provide feedback, or if you have a DATE topic burning a hole in your notebook you can send an email to oetadirectorate@army.mil and we will get back in touch about your guest contribution.
Join our Team on Army 365: DATE World Community of Practice
Visit the OE Data Integration Network (ODIN) for DATE World content, forces structures, the Worldwide Equipment Guide (WEG), and TRADOC G2 Training Publications.
Don't forget to check in with the latest at the Mad Scientist Laboratory Blog for ideas and insights concerning the operational environment of the future and conflict.