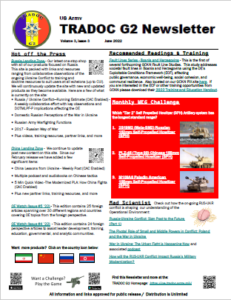 This addition has a significant focus on the Russia-Ukraine Conflict, and highlights many new regular publications associated with this event.  In this addition you will find our new Russia Landing Zone, our latest one-stop-shop with all of our products focused on Russia. This site is packed with links and resources ranging from collaborative observations of the ongoing Ukraine Conflict to training and doctrine resources to suit users at all echelons (up to CUI).
In this Newsletter you will also find recent updates to our China Landing Zone (including China's Lessons on Ukraine), a Fault Line Analysis of Bosnia and Herzegovina, and some of our latest Mad Scientist posts.
The attached document is UNCLASSIFED, approved for public release, and intended for mass dissemination amongst your formations or other leaders. The hyperlinks or QR Code will take the user directly to the products located on our public sites without a CAC, except for a few of the sites on the Russia and China Landing Zones or the GCKN link to their PiX site.
Our goal continues to make our content the most accessible to the force; providing resources to help unit leader development, training, and education (LDTE).  We welcome questions and feedback on these products or how TRADOC G2 can continue to support you in our mission to develop, describe, and deliver the operational environment.